LIMITED EDITION
4-Colour All-In-One Pen
An amazing all-in-one for eyes and lips
Use
Use to give structure to your look in the morning or to touch up your look later on.
Hurry only 1 left
4 x 0.1 g
Product details

Ingredients

How to

4 Colour Pen
Clarins' innovative all-in-one pen for eyes and lips is ready for summer in its green dress with Florida pink plant print. An intense black tip for graphic eyes, an emerald green to bring out all the colours in the iris and an intense plum to enhance your look still further. Define the lips and prevent make-up from running, the bright pink colour can also be used on the eye contour.
Handy travel-sized format
An all-in-one make-up pen for eyes and lips
Caring, comforting action
Simply refer to the colour and picture under each slider, then slide it down and turn in the direction of the arrows to release the tip of your choice. That's all it takes! Perfect for touch-ups day or night, simply slip it in your bag.
The 4-Colour All-In-One Pen
It's back in two new combinations!
Fun, practical and innovative: the Clarins multi-purpose pen is back. With all NEW shades, this make-up tool is your new must-have item and a touch of nostalgia you'll love revisiting.
Handy travel-sized format
An all-in-one make-up tool for eyes and lips
Soothing and comforting
New easy-to-wear shades
Day Look
Night Look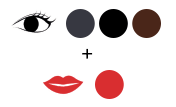 Sunflower
Jojoba
Have fun and play with colour – Clarins will take care of the rest!
Sunflower, jojoba and black acacia waxes provide comforting properties to your eyes and lips.
Effectiveness acclaimed by women
100%* of women found this concept innovative

89.6%* found the all-in-one pen easy to use
* Satisfaction test, product concept – 77 women – 3 weeks